Brief Introduction
A submersible pumps can use for clearwater or sewage,It is a new generation of products on the basis kemai pumps introduction of foreign advanced technology, and combined with the use of domestic water pump characteristic, have energy saving, the winding, no congestion, automatic installation and the characteristics of the automatic control. At solid particles in the lining and long fiber waste, has a unique effect.This series of pump adopts unique impeller structure and new type of mechanical seal, can effectively deliver a solid medium and long fibers. About impeller, compared with the traditional impeller, it adopts single port or double port, it is similar to a cross section bend with the same size, has the very good fluidity, with reasonable volute chamber, make the pump with high efficiency.It is hydraulic performance advanced, mature, Products tested all relevant standards were satisfied, after products put on the market, popular with the masses of users by its unique effect, reliable performance.
Pump conditions of use
1. Medium temperature less than 60 ℃, the weight is 1.0~1.3 kg/d m3, PH is 5~9.
2. Some pump without circulation cooling system, motor parts above liquid level less than 1/2.
3. Under normal circumstances, the pump must be used within the scope of use the lift, to ensure motor don't over load.If need use in the scope of head, should remark when in order.
4. In the process of operation, motor's current not more than rated current.
Submersible pumps structure
structure declaration
1
Signal lines
11
Oil-water probe
2
Electrical wiring
12
Oil chamber
3
Terminal block
13
Mechanical seal
4
Motor cover
14
Back shroud
5
Bearing
15
Pump casing
6
Shaft seat
16
Impeller bolt
7
Motor housing
17
Impeller
8
Stator
18
Seal ring
9
Shaft (rotor)
19
Chassis
10
Bearing
Pump impeller types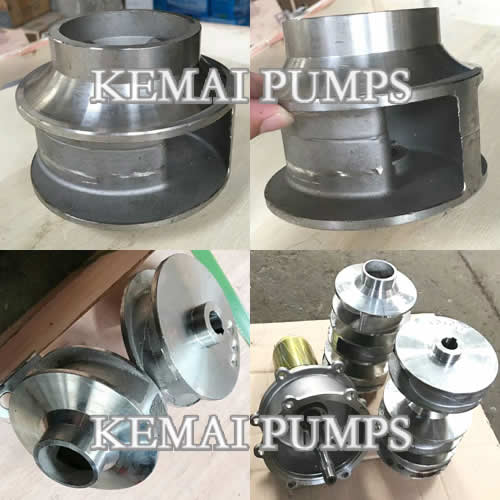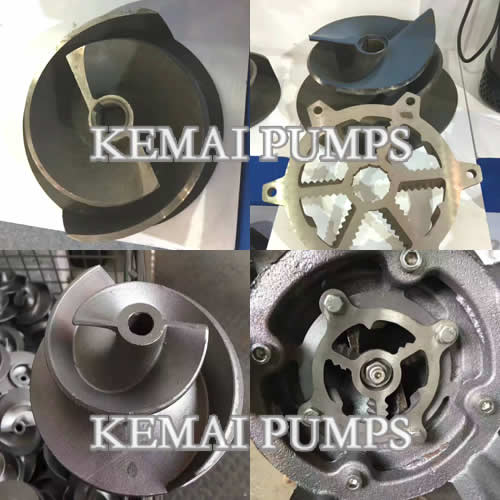 Submersible pumps product features
1. It adopt big port anti-clogging hydraulic component design, greatly improve the dirt through capacity, can effectively through the pump fibre material 5 times of pump diameter and about 50% of the solid particles.
2. Electric machine design is reasonable, reasonable, high efficiency and energy saving effect is good.
3. Mechanical seal is double tandem seal, the material is rigid corrosion tungsten carbide, with characteristics of durable, wear-resisting, can continuous operation of the pump more than 8000 hours.
4. It is compact structure, small volume, mobile convenient, installation is simple, don't need to build the pump room,work dived into the water.
5. Oil pump room have oil-water probe, when the mechanical seal damage, water into the oil chamber, then probe signal.
6. According to the user, it can be fitted with automatic security control cabinet, for the water leaking, electric leakage,overload, overheat of pump monitor, ensure safety and reliability of the operation of the pump.
7. Double guide rail automatic coupling installation system, to the pump installation, maintenance has brought great convenience.
8. Float switch according to the required water level change, automatic control the switch of the pump.
9. Within the scope of use head run of motor load.
10. According to occasions of motor can be used outside the water jacket type circulating cooling system, can ensure the safe operation of the pumps in the anhydrous conditions.
11. Installation with fixed automatic coupling installation and mobile automatic installation, can meet the use of different occasions.
Submersible pump use occasion
1. Industrial business seriously polluted waste water discharge.
2. Urban sewage treatment plant emissions system.
3. Residential sewage drainage station.
4. Civil air defense system drainage station.
5. Hospital, sewage discharge of the hotel.
6. Municipal engineering, construction site.
7. Exploration, mining supporting attached to the machine.
8. Rural biogas pool in farmland irrigation.
9. The waterworks water supply device.
Submersible pumps Installation instructions
1. Automatic coupling device system


Apply to the use of long-term fixed occasion, have advantages of installation quick and testing maintenance convenient. The system uses a special base, fixed in the bottom of the sump, connected to the outlet pipe, at the top of the pool installed support block, with guide rod connecting the two, water pump connected to specific support, along the guide bar down to the base, with automatic coupling, seal, ascension fall off automatically.
2. Mobile installation system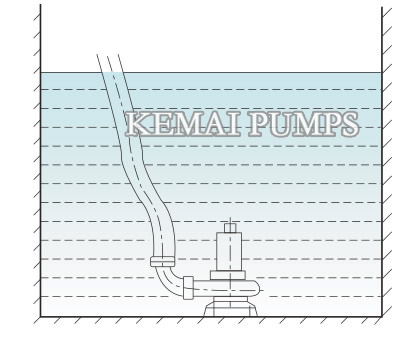 With stent supporting, connect the water hose then it can work, this way is mainly used in emergency or maintenance.